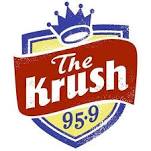 Join The Krush 95.9 for their annual broadcast marathon fundraiser benefiting the Child Parent Institute!
Tune in to 95.9FM or listen online at krsh.com on December 12th from 7am to 1pm, and call (707) 588-0707 to pledge your support to the Child Parent Institute. 
Visit calparents.org to learn more about how we support nearly 8,000 local families per year in Sonoma County.  
Our goal is to raise $10,000, and every dollar makes a difference! The first $2500 raised will be matched by Montgomery Village; the next $500 will be matched by Platinum Chevrolet. Your support can help us meet our goal and continue to build brighter futures for children and families in Sonoma County.
For more info and updates, like our event page on Facebook.
Please help us spread the word by sharing our event and asking your colleagues, friends, family, and followers to tune in and help keep the phone lines busy on December 12th!